Teacup Potbelly Piglet Nursery
We are USDA registered breeders of Tiny Teacup Potbelly Piglets 850-348-9928 OR bddunham@littlepigs.mysite.com
Welcome to the Teacup Potbelly Piglet Nursery!
All Credit Cards Accepted Through PayPal ​ Finance Your Purchase - Get your Piglet and have 6 months to pay interest free!
TUXEDO TEACUP PIGLETS PRICE RANGE: $710- $920 SHIPPING & VETERINARY SERVICES INCLUDED HOW TO PURCHASE A TUXEDO TEACUP PIGLET ​ Make your Non-Refundable $150 Deposit to Reserve Your Baby Tuxedo Teacup Piglet or Pay in Full. ​ ​ Prices include Tuxedo Teacup Pig, air fare, taxes, kennel, veterinary services for health certificate, CDT vaccination, de-worming, laboratory tests and your state's entry permit. ​ Optional neutering ($165) or spaying ($240) is an additional charge. If you would like to have this surgery done prior to shipping we can arrange to have the procedure taken care of for you. ​ Baby Micro Mini Pigs or Baby Tuxedo Teacup Pigs may be picked up in person or you may have your piglet shipped to the major airport of your choice in the U.S. ​ ​ Micro Mini Pigs & Teacup Piglets are shipped between 7 & 8 weeks of age. We meet all airline shipping requirements.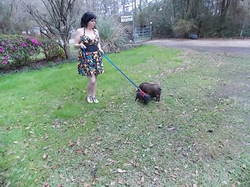 All of the baby pigs that we offer have started potty training and are in-home socialized before shipping. ​ We strive to make your pet pig ownership experience worry free. We hope you will take a moment to view our micro mini pigs and our tuxedo teacup pigs for sale. ​ Tuxedo Teacup Piglets as House Pets ​ These little Teacup pigs are the smallest actual breed of the Vietnamese Potbelly Pig and are highly desirable for their size; maturing to about 25 pounds and about a foot tall - Perfect House Pigs! ​ ​ Like their cousin the Mini Pig, they are very social, easily trained and have the intelligence of a 2-3 year old child. ​ Tuxedo Teacup Pigs are black in color with white markings around the shoulders and chest. If you have any questions regarding our Tuxedo Teacup Pigs or would like more information, please contact us.
Each of our piglets comes with a one year health guarantee!